Welcome to Valley Boys Auto Sales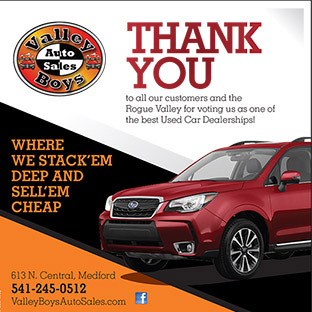 STACKEM DEEP SELL'EM CHEAP!
Come see us! Call us at 541-245-0512 For your convenience on open recalls please visit, www.SaferCar.gov this website operated by NHTSA.
I am a real customer. I was in desperate need of a vehicle. Mine was at the end of it's life. Lousy credit, no where to go. Valley Boys tried to get me financed but it was a no go. I am a Navy Veteran, with very limited income and couldn't get access to alot of money down. Not only did they finance me themselves, they hooked me up with the most awesome ride. I have no doubt it will last for a long time. I know not every car is going to be super. They are used and you can only predicted so much of how it will work. I can tell you from my experience, I have received the most respect, honest service, and a payment plan I could work with. I would recommend Valley Boys to anyone, especially thier service to Veteran. Jay J.
Jay - Eagle Point
Dave and the crew are amazing. You guys went beyond and above for a first time buyer on my part. We walked away with a vehicle, and took us in stride while we had our kids with us. We will for sure recommend them to everyone and will be buying from thme again
Michelle Kylmala - Talent
Rob and Brody both are awesome helped me get into my car always been friendly always caring.
John - Medford oregon