Welcome to Valley Boys Auto Sales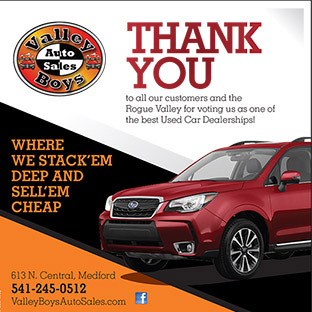 STACKEM DEEP SELL'EM CHEAP!
Come see us! Call us at 541-245-0512 For your convenience on open recalls please visit, www.SaferCar.gov this website operated by NHTSA.
Valley Boys has taken a huge chance on us twice now! Would recommend to everyone! Thank you so much!
Chris H. & Dori G. Talent
I can't say enough about the experience I had with Brody! My step-son needed a car, and I'm in Alabama. Brody worked with me over the phone to get everything done. A very no hassle, always helpful experience! I highly recommend Valley Boys!
Tony - Berry, Alabama
Brent showed me the types of vehicles I was interested in. This was my first experience at a dealership and it was a wonderful one. I walked off the lot with not just the vehicle I wanted but the one I needed. He was Knowledgeable, patient, and thorough. It was a great experience!
Jodeen M. Klamath Falls