Welcome to Valley Boys Auto Sales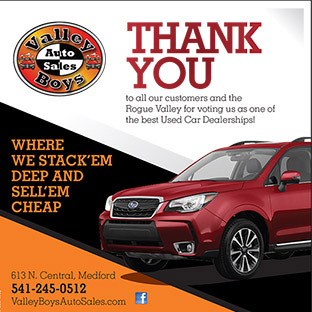 STACKEM DEEP SELL'EM CHEAP!
Come see us! Call us at 541-245-0512 For your convenience on open recalls please visit, www.SaferCar.gov this website operated by NHTSA.
Brody was very helpful and worked a miracle for me! Thank you Valley Boys. I appreciate you more than you'll ever know!
Tandy P. Central Point
Absolutely loved the transparency, demeanor, and personable experience. They truly are a great group!
Faith H.
Returned for another great experience! Great guys! Great service! Great deal! We'll be back for sure! Highly recommend these guys!
Emily & Erik C. Eagle Point