Welcome to Valley Boys Auto Sales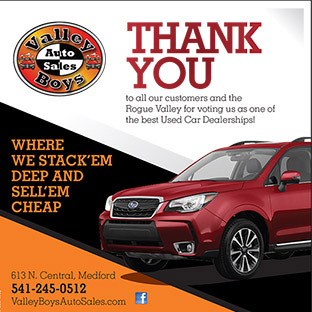 STACKEM DEEP SELL'EM CHEAP!
Come see us! Call us at 541-245-0512 For your convenience on open recalls please visit, www.SaferCar.gov this website operated by NHTSA.
Almost the one year anniversary, the car they helped me get is still going strong!!!!! Couldn't have been any better service, I have one of the worst credit scores ever. I am a veteran and they took a chance on me. Now they have me set up with a credit company earning a better credit score. Attention all veterans, go to the Valley Boys Auto Sales. They will treat you with respect!!!!!
Jay Jacobson - Eagle Point
I am a real customer. I was in desperate need of a vehicle. Mine was at the end of it's life. Lousy credit, no where to go. Valley Boys tried to get me financed but it was a no go. I am a Navy Veteran, with very limited income and couldn't get access to alot of money down. Not only did they finance me themselves, they hooked me up with the most awesome ride. I have no doubt it will last for a long time. I know not every car is going to be super. They are used and you can only predicted so much of how it will work. I can tell you from my experience, I have received the most respect, honest service, and a payment plan I could work with. I would recommend Valley Boys to anyone, especially thier service to Veteran. Jay J.
Jay - Eagle Point
Excellent service! They work hard to get you the deal you want. I have bought multiple vehicles from them and highly recommend them.
Erain Scaggs - Redmond