Welcome to Valley Boys Auto Sales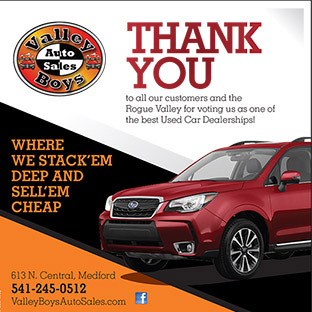 STACKEM DEEP SELL'EM CHEAP!
Come see us! Call us at 541-245-0512 For your convenience on open recalls please visit, www.SaferCar.gov this website operated by NHTSA.
Brent showed me the types of vehicles I was interested in. This was my first experience at a dealership and it was a wonderful one. I walked off the lot with not just the vehicle I wanted but the one I needed. He was Knowledgeable, patient, and thorough. It was a great experience!
Jodeen M. Klamath Falls
5 star rating! Valley Boys are willing to work with you and will bend over backwards to help you get a car that fits your budget. We enjoyed the respect they gave us. We will be back when we need another vehicle. Thank you so much guys.
Jeanene & Claine B. New Pine Creek OR
Returned for another great experience! Great guys! Great service! Great deal! We'll be back for sure! Highly recommend these guys!
Emily & Erik C. Eagle Point