Welcome to Valley Boys Auto Sales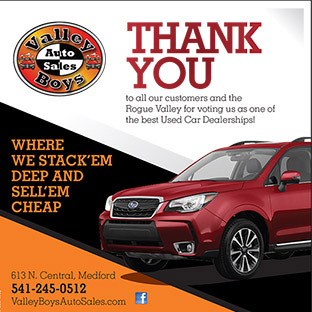 STACKEM DEEP SELL'EM CHEAP!
Come see us! Call us at 541-245-0512 For your convenience on open recalls please visit, www.SaferCar.gov this website operated by NHTSA.
I was in a bad situation and really needed to purchase a decent, safe and reliable vehicle. Dave was extremely professional and very helpful. He was able to obtain financing and get me into a car that I am very happy with. Thank you so very much for making this transaction very smooth and pleasant. Best car buying experience I could have every asked for.
Shari - s Pass
Excellent service! They work hard to get you the deal you want. I have bought multiple vehicles from them and highly recommend them.
Erain Scaggs - Redmond
Almost the one year anniversary, the car they helped me get is still going strong!!!!! Couldn't have been any better service, I have one of the worst credit scores ever. I am a veteran and they took a chance on me. Now they have me set up with a credit company earning a better credit score. Attention all veterans, go to the Valley Boys Auto Sales. They will treat you with respect!!!!!
Jay Jacobson - Eagle Point